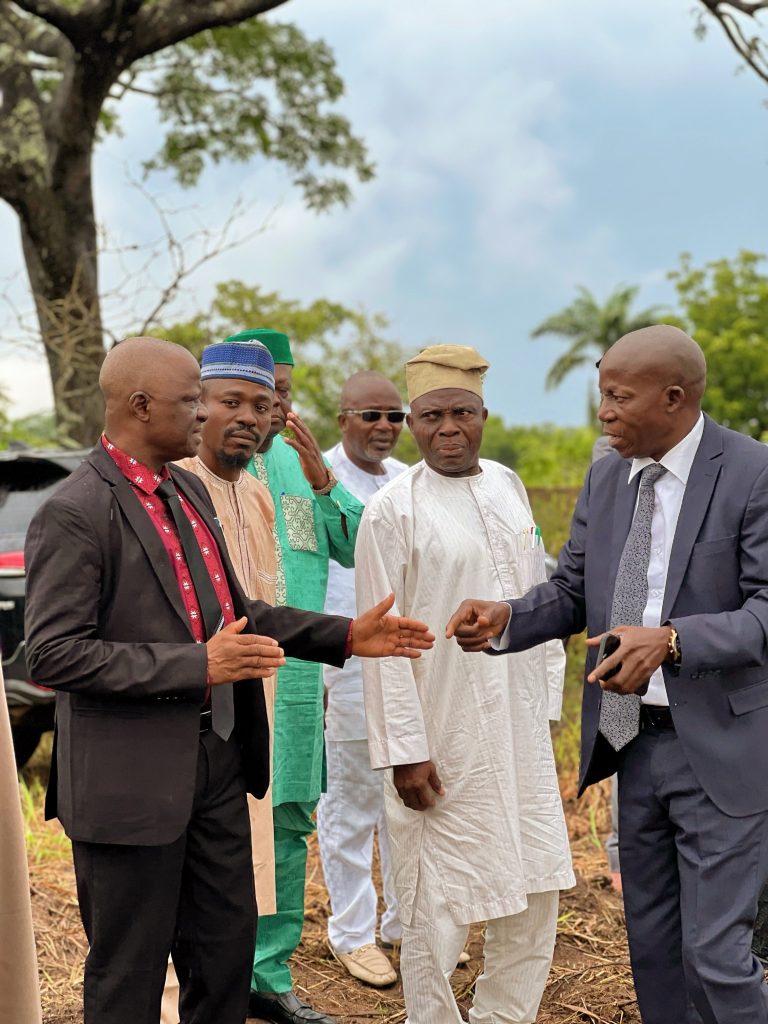 On Wednesday, 23rd August, 2023, Al-Hikmah University hosted the Director-General of Forestry Research Institute of Nigeria (FRIN), Ibadan, Prof. Z. B. Yaduma and delegation from the Institute for the flag-off of the Green Campus Initiative and Foundation Laying Ceremony of Abdulraheem Oladimeji FRIN Outstation, at Igbaja campus.
At the ceremony was the Founder and Chairman, Board of Trustees, Alh. Chief (Dr.) AbdulRaheem Oladimeji, who was the Chief Host, the Elese of Igbaja and Chairman, Ifelodun Council of Traditional Rulers, Alh. Ahmed Awuni Arepo III, the Royal Guest and the representative of the Pro-Chancellor, Prof. M. A. Aremu. Others in attendance were the representatives of Kwara State Commissioner of Police, Director of Forestry, Kwara State Ministry of Agriculture, Al-Hikmah University staff and students.
In his welcome address, the Vice-Chancellor, Prof. Noah Yusuf, expresses that climate change, deforestation and the depletion of natural resources are stark realities that demand everyone's immediate attention.
He further said "The future of our planet depends on the action we take today".
By initiating this tree-planting programme, he said that the University pledged its commitment to combatting climate change.
He added that the institution would also ensure a healthier ecosystem for the current and future generations.
According to him,
"Al-Hikmah University has always been at the forefront of academic excellence and it is only fitting that we take the lead in environmental conservation as well".
"Trees are more than just a source of oxygen; they are the guardians of biodiversity, combatants against soil erosion and providers of habitat for countless species".
"As we plant these saplings, we sow the seeds of hope, resilience and sustainability".
In his own speech, the Director-General, Forestry Research Institute of Nigeria, FRIN, Ibadan, Prof. Z. B. Yaduma commended the University for taking g the bold step of being the first University in the North Central region to adopt the Green Campus Initiative. He pledged the commitment of his Institute to support the University. He further advocated for the establishment of the Department of Forestry, Fishery and Wide life so as to boost the profile of the University and that the University can be a tourist attraction Centre with the establishment of zoological garden in Igbaja Campus.
The Founder of the University, Alh. Chief (Dr.) AbdulRaheem Oladimeji, appreciated the good gesture of the Director General and prayed for continued and stronger collaboration between the University and the Institute.
The Royal Guest, Elese of Igbaja, prayed for the FRIN delegation and the University in general.
The event was concluded with the ceremonial tree planting and foundation laying of the Outstation.