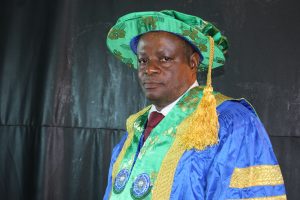 CITATION ON ALHAJI MUSIBAU OLADEJO, B.Ed, (Ib), FCA
Bursar, Al-Hikmah University, Ilorin
Born in Ibadan, Oyo State, Nigeria on December 26, 1961, Alhaji Musibau Abiodun Oladejo had his Secondary Education at Anglican Secondary School, Ibadan between 1973 and 1978 before proceeding to Wesley College, Elekuro, Ibadan (1981-1982) for his Teacher's Grade II Certificate.
He also attended Oyo State College of Education, Ilesa between 1984 and 1987 for his Nigeria Certificate in Education (NCE) after which he gained admission to read Teacher Education at the nation's premier University the University of Ibadan, Ibadan Nigeria between 1989 and 1993. Alhaji Oladejo was also at Obafemi Awolowo University, Ile-Ife for his Master's in Business Administration (MBA) Programme (with specialization in Accounting and Finance) in 2004. Furthermore he studied Educational Management at Al-Hikmah University, Ilorin where he obtained his Master's Degree in Educational Management.
Alhaji Oladejo qualified as a Chartered Accountant in 2001 and became a Fellow of the Institute of Chartered Accountants of Nigeria (ICAN) in 2016. He is a Member of the Institute of Economists of Nigeria (INEN). He is a qualified and Certified Teacher with Teachers Registration Council of Nigeria (TRCN), Chartered Institute of Loans and Risk Management of Nigeria. He is also a member of Institute of Economics (INEM) and a qualified and certified teacher with Teachers Registration Council of Nigeria (TRCN) and also a member of Chartered Institute of Taxation of Nigeria (CITN).
Alhaji Oladejo, who was the Ag. Bursar of Al-Hikmah University, Ilorin, between 2014 and 2016, had also served as the Prinipal Accountant, Al-Hikmah University, Ilorin, (2012-2014); Financial Controller, Wema Insurance Brokers Limited (A subsidiary of Wema Bank Plc.) (2004-2012); Payroll Officer, Wema Bank Plc. (1999-2004); and Audit Manager, Ayodele Olatunji & Co. (A Firm of Chartered Accountants) (1998-1999). Prior to this period, he had taught in various secondary schools namely: Baptist Grammar School Ara-Ede, Osun State and Oke Ado High School, Ibadan, Oyo State, among others.
At present, Alhaji Oladejo is a member of the following committees at Al-Hikmah University, Ilorin; Finance and General Purposes Committee, Al-Hikmah University Ventures Limited, Assets Management Committee, Tenders Board, Appointments and Promotions Committee of Junior & Senior (Non-Teaching Staff), Strategic Planning Committee, Ceremonials Committee, Development Committee, Vice-Chancellor's In-House Committee, Registrar's In-House Committee and Board Member, AbdulRaheem College of Advance Studies, Igbaja, Kwara State (An Affiliate of Al-Hikmah University, Ilorin).
As part of his contributions to community development, Alhaji Oladejo is the General Secerary, Prime Club of Ibadan, a division of Council of Ibadan Indigenes (CCII); Board Member-Lanko Group of Companies, Ibadan; Board Member- Qazlad Nigeria Limited; Member –NASFAT Society of Nigeria; Member-The Muslim Congress of Nigeria; and President-General, August Club of Ibadan. His hobbies include reading and travelling. Alhaji Oladejo is happily married and blessed with lovely children.