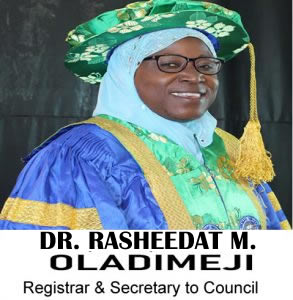 CITATION ON DR.  Rasheedat M. OLADIMEJI
Registrar, Al-Hikmah University, Ilorin
Dr.  Rasheedat M. Oladimeji, the Yeye Oba of Irese Land, attended the famous Omupo Grammar School, Omupo, Kwara State, between 1975 and 1980. She also attended College of Education Oro, Kwara State from 1985 to 1988. For her tertiary education, she attended the University of Ilorin, "the better by far University" between 1988 and 1991 where she obtained Bachelor of Education degree in French. She also attended the same University for her Postgraduate Studies where she obtained her Master's and Ph.D. Degree (Educational Management) in 2003 and 2018 respectively. 
Dr.  Rasheedat M. Oladimeji worked with the Kwara State Ministry of Health between 1980 and 1985. She joined the services of Al-Hikmah University as a Senior Assistant Registrar in 2008 and she has worked in every critical sector of the Registry. She was an Admissions Officer, Academic Affairs Officer and Deputy Registrar (Establishments division).
Dr.  Rasheedat M. Oladimeji is a very hardworking woman who is committed to efficient and effective service delivery, a quality which facilitated her promotions. She became the Acting Registrar of the University in December 2011.
By dint of hardwork, her wealth of experience and readiness to always work for the development of education, she was appointed to the meritorious position of Registrar of the University in May 2012. As the Registrar of Al-Hikmah University, she serves as Secretary and member of Governing Council, Secretary to Senate and Congregation, member, Development Committee, Ceremonials Committee among others.
Apart from being an Administrator per excellence, she lectures students in Educational Management and had more than eight (8) publications in reputable national and international journals.
Dr.  Rasheedat M. Oladimeji is a member of many Learned and Professional Organizations. She is a Members of Chartered Institute of Personnel Management of Nigeria (CIPMN) and a Fellow of Institute of Corporate Administration.
She has visited and attended many Local, National & International Conferences across the United States, United Arab Emirate, Turkey, Malaysia, United Kingdom, Germany, China, Saudi Arabia and over four (4) African Countries. The International Conferences she attended include, but not limited to, the following: Higher Education Women's Conference, Registrars Study Tour in Washinton D.C, Instabul Study Tour, among others.
Dr.  Rasheedat M. Oladimeji has earned so many awards, some of which are: Ilorin Central Lions Club President's Award for Development of Humanity; Nigerian Association of Women Journalists Merit's Award for Awakening Women's Participation in Sports; Award of
Excellence as Academic Ambassador of the year 2014/2015 by David Akintola College, Ilorin; Award of Excellence by Izharul-Haq Movement of Nigeria; NIMMA International Magazine Woman of Distinction Merit Award. 
As a sportswoman and philanthropist, she has been conferred with many Sporting awards. Among them are Amalgamation of Nigeria Women Football Club Coaches' Merit award, OBJ Sports Award (Mother of Sports); Best Sport Girl of the year, Pepsi Football's Merit Award, and Kwara State (Football) Referee's Council Merit Award in appreciation of her contribution to football development in Nigeria.
As a Community Woman Leader, She is also Matron to many important Associations and Bodies such as Life Matron of Igbaja Bond Club and Adewole Women Cooperative Society. She has also been conferred with several Chieftaincy titles such as the Iya Ewe of Oroland, Yeye Oba of Ireseland, Otun Iyalode of Iresaland, Yeye Oge of Esieland, Yeye Fadegbayi of Ojoku land, Jaharatul Islam of Sultanat Mosque, Adewole Estate, Ilorin, Iya Ewe Omosuaro of Igbaja, Mujahidatudeen of Ibrahim Islamic Centre, Ilorin, Musaidatudeen of Alanamu Jamuhiyatil Istijabat Society of Nigeria, Ilorin, Iya Isale Adinni of Igbaja Land.
She is a kind hearted woman who has touched so many lives positively.