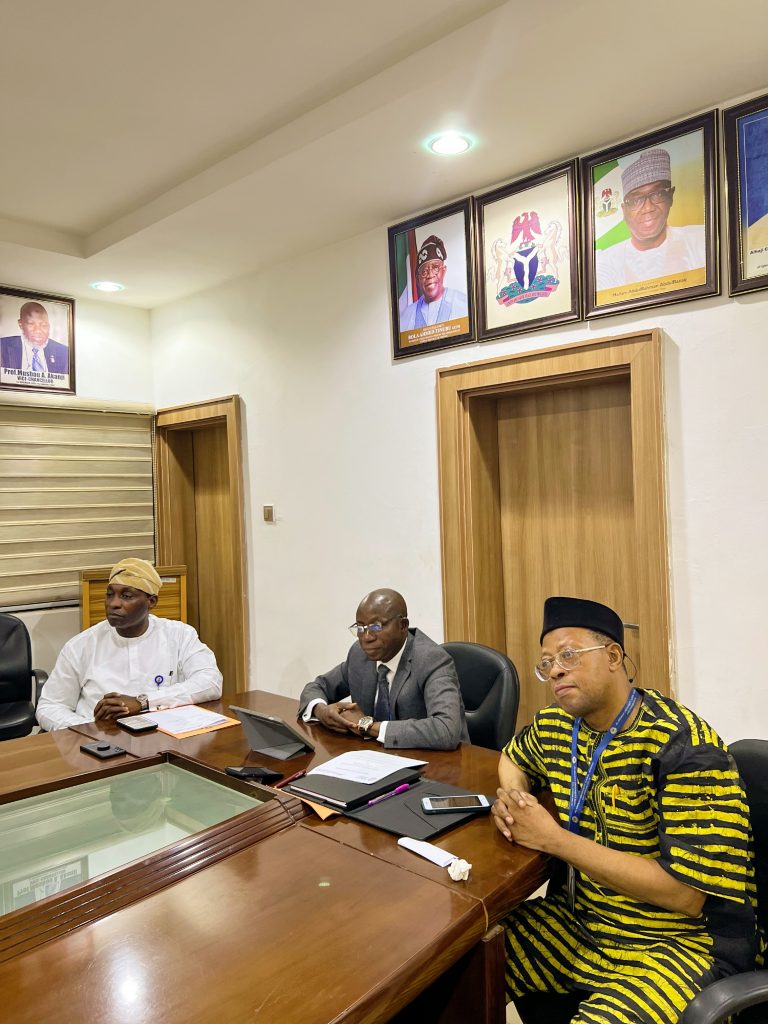 Al-Hikmah University, Ilorin, Nigeria, has signed a Memorandum of Understanding (MoU) with AMET University, a prestigious educational institution based in Chennai, India. The signing ceremony, which was conducted virtually, between the two partnering Universities had the Vice-Chancellors of Al-Hikmah University, Prof. Noah Yusuf and the
Pro Chancellor of AMET University, Dr Rajesh Ramachandran presiding at both ends.
The MoU was essentially designed to mark a significant milestone in promoting research collaboration, staff and students exchange as well as cultural interchange between the two institutions.
In his address, the Vice Chancellor AMET University Dr. V. Rajendran noted that the collaboration aims to foster mutual understanding, cooperation, and enhance academic experiences of students and faculty members from both institutions. The collaboration will focus on various aspects that include faculty exchange programs, joint research initiatives, online conferences, joint international conferences, and student exchange programs between the two prestigious universities.
In his keynote address, Prof. Noah Yusuf, the Vice-Chancellor of Al-Hikmah University, noted that the partnership with AMET University reflects the commitment to internationalization shared interest of both countries and provides excellent opportunities for both countries to share ideas, innovation and provide avenues for students and faculties to engage in global academic activities.
He further stressed that the collaboration would give some parents, who desire their children to study abroad for Postgraduate studies,the opportunity to do so, adding that they anticipate a fruitful research collaboration, exchange of knowledge, and cultural understanding between the two institutions.
The Pro-Chancellor (Academics) of Amet University, Col. Dr. G. Thiruvasagam, commended Al-Hikmah University for its steady growth and progress over the years in the areas of student enrolment, infrastructural development and the provision of quality education. He further expressed optimism that the collaboration would yield mutual benefits to both institutions.
He encouraged Al-Hikmah University to improve academic activities in programmes such as Marine Engineering, Mining Engineering, Data Science and Artificial Intelligence. He suggested that joint degree programmes should commence between the two Universities in which students could spend two years in Al-Hikmah University and one year in AMET University. In addition, students and staff from Al-Hikmah University could spend 3-6 months for training programmes on machine learning, Information technology that would take place in India.
The Dean of International Relations AMET University, Dr. T. Sasilatha expressed her enthusiasm on the partnership, emphasising that its implementation would create a platform for effective knowledge sharing and meeting of students from both countries to enhance the educational experiences from diverse cultures in which both institutions would actively collaborate on various multidisciplinary research projects, jointly organize academic conferences, seminars, and workshops.
Dr. Deepa Rajesh, Vice President (Academics) and Executive Director of AMET Business School added that when the partnership begins to unfold, it would enhance network opportunities, cultural sensitivities and contribute to national development of both India and Nigeria. She emphasized that the MOU signifies a decisive step towards furthering educational excellence to strengthening global ties in higher education and ensuring that diplomatic and bilateral relations of both countries increase. She stressed the need for regular engaging activities and also commended Nigeria for its cultural heritage and diversified economy to be able to sustain its population of over 210 million with over 250 ethnic groups.
The Registrar of Al-Hikmah University, Dr K. A. Oladimeji appreciated the management of AMET University for the partnership and urged for emphasis on the implementation phase of the collaboration for the benefits of both institutions.