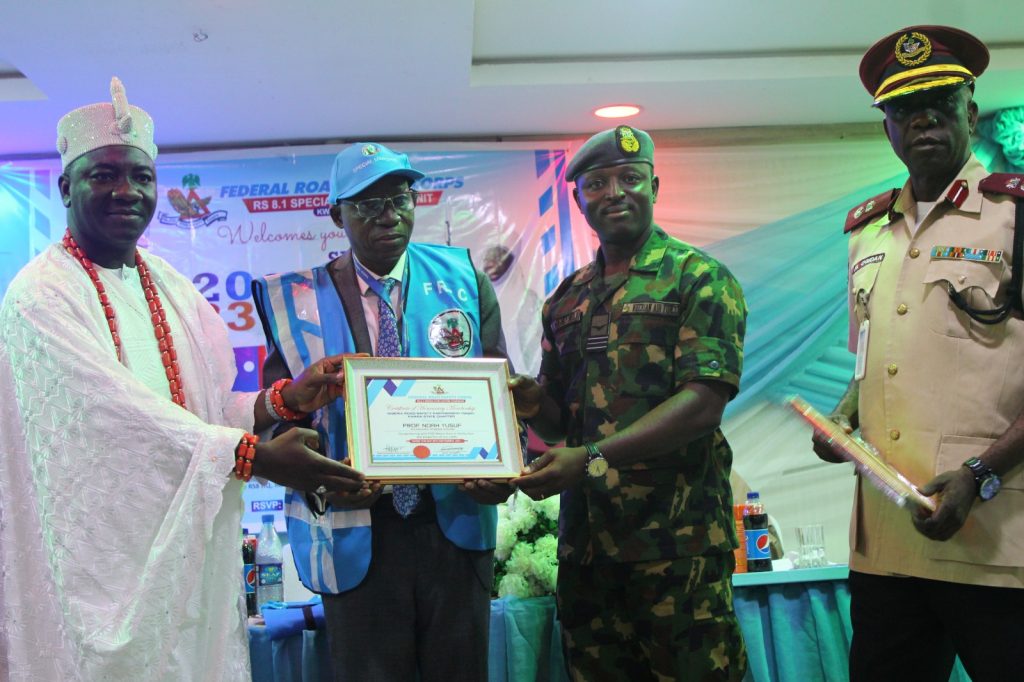 As a way of celebrating visionary leaders dedicated to saving lives and nurturing future leaders, the Federal Road Safety Corps (FRSC) RS 8.1 Special Marshals Unit, Kwara State, hosted a prestigious award ceremony on Thursday, 28th September, 2023 at Rotana Hotel, Ilorin to celebrate and recognize the exemplary contributions of the Founder and Vice-Chancellor of Al-Hikmah University, Ilorin, in the fields of road safety advocacy and education.
The FRSC commended Alh. Chief (Dr) Abdulraheem Oladimeji OFR, FNAEAP, fSPSP, the visionary Founder and Chairman, Board of Trustees of Al-Hikmah University, for his unwavering commitment to education and road safety in Nigeria. Alh. Chief (Dr) Abdulraheem Oladimeji OFR founded the university on 7th January 2005, with a mission to provide quality education that not only nurtures young minds but also instills a strong sense of social responsibility.
Beyond education, Alh. Chief (Dr) Oladimeji OFR, has been a prominent advocate of road safety, tirelessly working to raise awareness about the importance of responsible driving and the prevention of accidents on Nigeria's roads. His dedication to this cause has saved countless lives and made a lasting impact on the nation's road safety landscape.
Accepting the award on behalf of the Founder, the Registrar of the University, Dr. K. A. Oladimeji expressed his gratitude and emphasized the intersection of education and road safety. "Education equips individuals with the knowledge and values needed for responsible citizenship, including obeying traffic rules and promoting road safety". He further stated: "I am deeply honored to receive this recognition, on behalf of our Founder, which underscores the need for collaboration between education and road safety organizations."
The Vice-Chancellor of the University, Prof. Noah Yusuf, was also celebrated for his outstanding leadership and dedication to academic excellence and road safety advocacy. Under his leadership, the University has become a hub of innovative education while fostering a strong commitment to responsible behavior on the road among its students and staff.
Professor Yusuf had actively supported road safety initiatives and campaigns within the university community and environs, emphasizing the importance of safe driving practices and responsible road behaviour. His efforts had not only contributed to a safer campus but also a positive impact on road safety beyond the University gates which has led to the establishment of Al-Hikmah University Special Road Marshal in 2021.
The Federal Road Safety Corps reaffirmed its commitment to promoting road safety and education as essential pillars of national development. The award ceremony highlighted the critical role that institutions of higher learning, such as Al-Hikmah University, play in nurturing future leaders who are conscious of their responsibilities on the road and in society.
The event concluded with a standing ovation for Alh. Chief (Dr) Abdulraheem Oladimeji OFR and Prof. Noah Yusuf alongside other honorees all of who were presented with awards of Honorary Membership of the Federal Road Safety Corps (FRSC). Their dedication to education and road safety serves as an inspiring example for all Nigerians, emphasizing the symbiotic relationship between education and responsible citizenship, and how both are vital for the nation's progress and well-being.