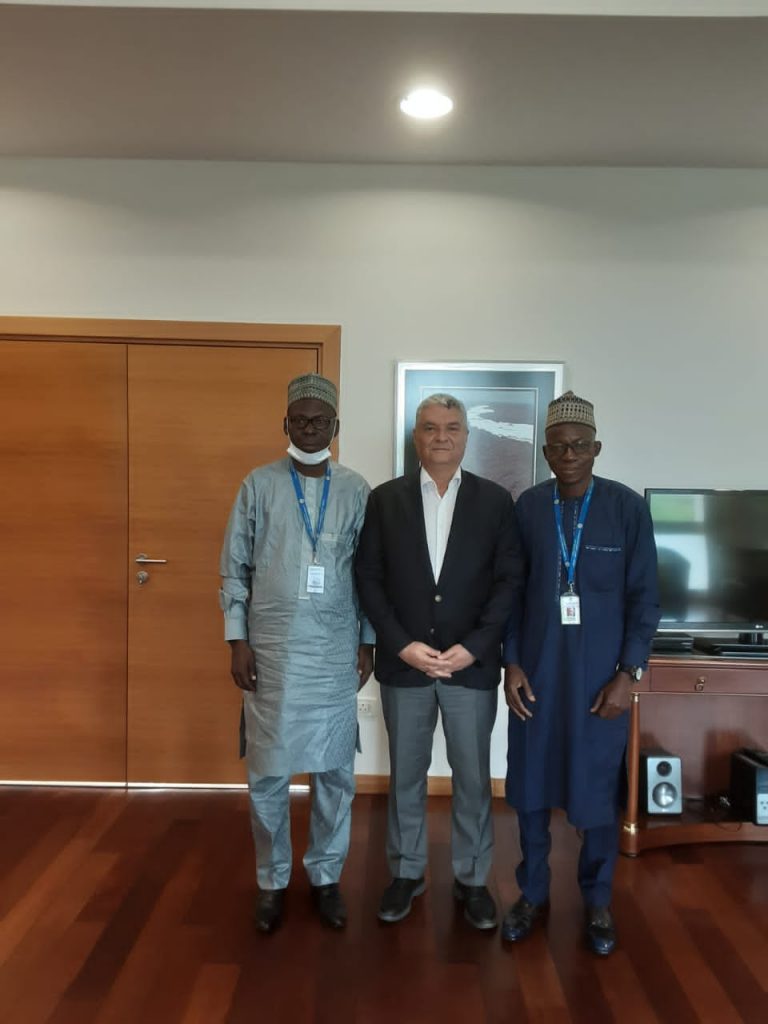 On the invitation of the Head of Mission, the Republic of Turkey in Nigeria, His Excellency Ambassador Hidayet Bayraktar, the Vice-Chancellor of Al-Hikmah University, Ilorin, Professor Noah Yusuf, led a team to the Turkish Embassy in Abuja on Tuesday April 19, 2022, to hold a discussion on areas of partnership between the Government of Republic of Turkey and the University.
The Vice-Chancellor, who was accompanied by Dr. S. L Nurudeen, Director of Academic Planning, stated in his remark that the 17-year-old University is Nigeria's first Islamic faith-based private University. He emphasized that, in line with the University's Motto which is Learning for Wisdom and Morality, all the academic programmes in Al-Hikmah University are blended with the right dose of moral and spiritual upliftment for its students.
The Vice-chancellor further stressed that the University management is focused on producing graduates who are job creators rather than job seekers, thereby encouraging the development of entrepreneurial and vocational skills among its graduants.
Speaking further, Professor Noah Yusuf stated that the institution has enjoyed a smooth and uninterrupted academic calendar since its inception in 2005. The quality of Al-Hikmah University's academic programmes has been attested to by the National Universities Commission, NUC in its successive accreditation exercises. These extraordinary achievements have attracted a large number of applicants to the University, and this has put pressure on the current state of critical infrastructure in the institution.
The need to keep pace with the increasing demand makes it imperative for the University to expand its capacity in order to accommodate the growing number of students and applicants, he added. In the spirit of the Theme of the Turkey – Africa Partnership Summit, the Vice-Chancellor called for collaboration between Al-hikmah University and the Republic of Turkey in the areas of capacity building for staff, staff and students exchange between Al-Hikmah University and relevant institutions in the Republic of Turkey, funding of an Endowment Chair in the Department of Islamic Studies, support for the activities of the Center for Islamic Heritage as well as the Centre for Entrepreneurial and Vocational studies, among others.
In his response, Ambassador Hidayet Bayraktar praised the management's efforts to maintain the University's status as a first-choice private University in Nigeria. The Ambassador acknowledged that there are possible areas that which the Republic of Turkey can collaborate with Al-Hikmah University and promised to channel the requests of the University to his home Government. The Ambassador was impressed by the Vice Chancellor's assurance that Al-Hikmah University is operating in Ilorin, Kwara State, which has been adjudged to be peaceful in spite of the spate of insecurity in other parts of the Country. He assured the Al-Hikmah University delegation that his office would constantly update the University with the status of our request from time to time.