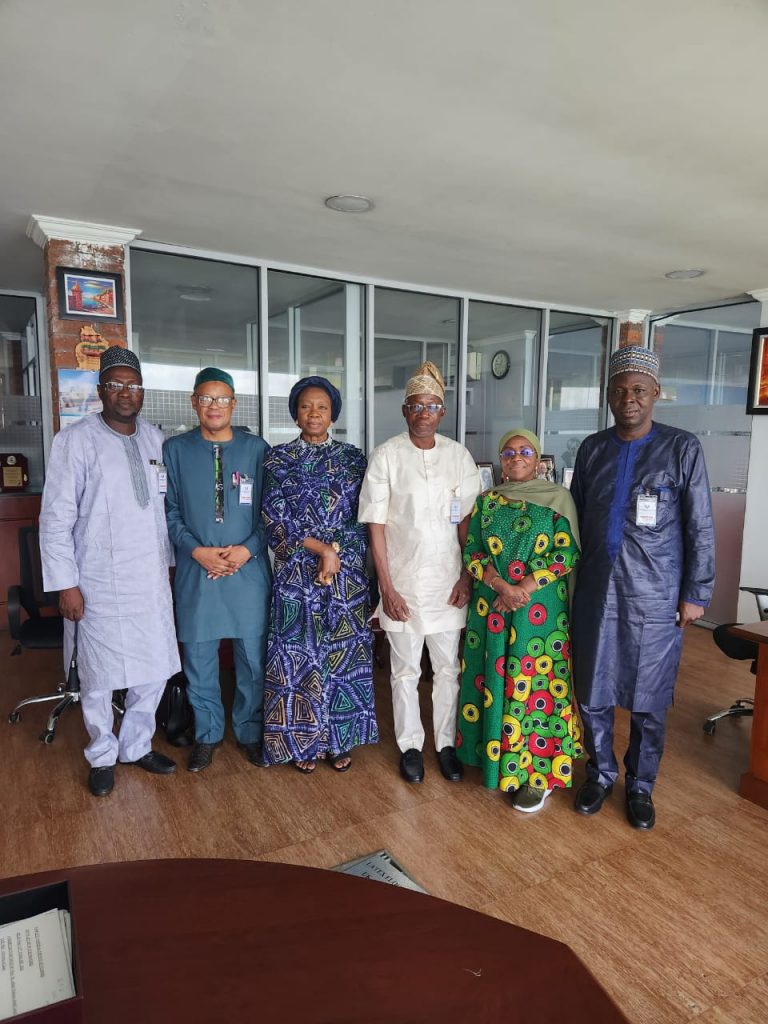 On Wednesday, 3rd May 2023, a delegation from Al-Hikmah University paid a courtesy visit to the duo of Drs. Mosun Belo- Olusoga and Foluke K.Abdulrazaq, both of who received the honorary degrees of the University – Doctor of Accounting (Honorary Causa) and Doctor of Finance (Honorary Causa) respectively, at the 12th Convocation ceremony of the University on 10th of December, 2022. The visit was at the Bridge House College in Ikoyi, Lagos State, Nigeria. The delegation was led by the Vice-Chancellor of the University, Professor Noah Yusuf and included Professors G. O. Akashoro (Deputy Vice-Chancellor) and L. F. Oladimeji (Dean, Faculty of Humanities and Social Sciences) and Dr. S. L. Nurudeen (Director, Academic Planning).
The purpose of the visit was to appreciate the honorees for their presence at the 12th Convocation ceremony and donation of the sum of Fifty million Naira (along with the third honoree, Dr. Fola Adeola). The visit was also meant to explore opportunities for collaboration and partnership in areas of mutual interest between the University and the two educational institutions owned by the two honorees, namely, Bridge House College, and City of Knowledge Academy, both in Lagos.
The visit began with a brief introduction of the members of the delegation by the Vice-Chancellor, Professor Noah Yusuf, followed by a welcome addresses from both hostesses – Drs. Mosun Belo-Olusoga and Mrs. Foluke K. Abdulrazaq. Both variously expressed appreciation for the conferment of honorary doctoral degrees and expressed their willingness to partner with Al-Hikmah University in the areas of providing model of physical development and quality service delivery of staff. Dr. Belo-Olusoga invited the University management to City of Knowledge Academy in July, 2023.
The Vice-Chancellor of Al-Hikmah University, Professor NoahYusuf, in his response, thanked the hostesses for the warm welcome and expressed his appreciation for the opportunity to visit Bridge House College. He stated that Al-Hikmah University would benefit from the world class infrastructural and learning facilities in the College and promised to replicate the model at Atere Permanent Site Campus. He also commented on the serene and nature-friendly environment of the school which provide for conducive learning environment.
At the end of the meeting, the Vice-Chancellor of Al-Hikmah University, Professor NoahYusuf, presented sovenirs the two hostesses as a token of appreciation for the warm reception and hospitality extended to the delegation. The gesture was reciprocated by the hostesses.
Prayers were offered for the hostesses, Al-Hikmah University, City of Knowledge Academy and Bridge House College.
The courtesy visit of the Al-Hikmah University delegation to Drs. Mosun Belo- Olusoga and Foluke K. Abdulrazaq at Bridge House College, Osborne Phase Two, Ikoyi, Lagos, was a success, and both parties expressed their commitment to exploring opportunities for collaboration and partnership in various areas of mutual interest. It is hoped that this visit will pave the way for a fruitful and enduring partnership between Al-Hikmah University and the two institutions.